The Escape Wheel
Louise Manifold
---
View the trailer
Artist's biography
Contributors
Singer : Elizabeth Hilliard
With thanks to
Musée d'Art et d'Histoire, Neuchâtel, Switzerland.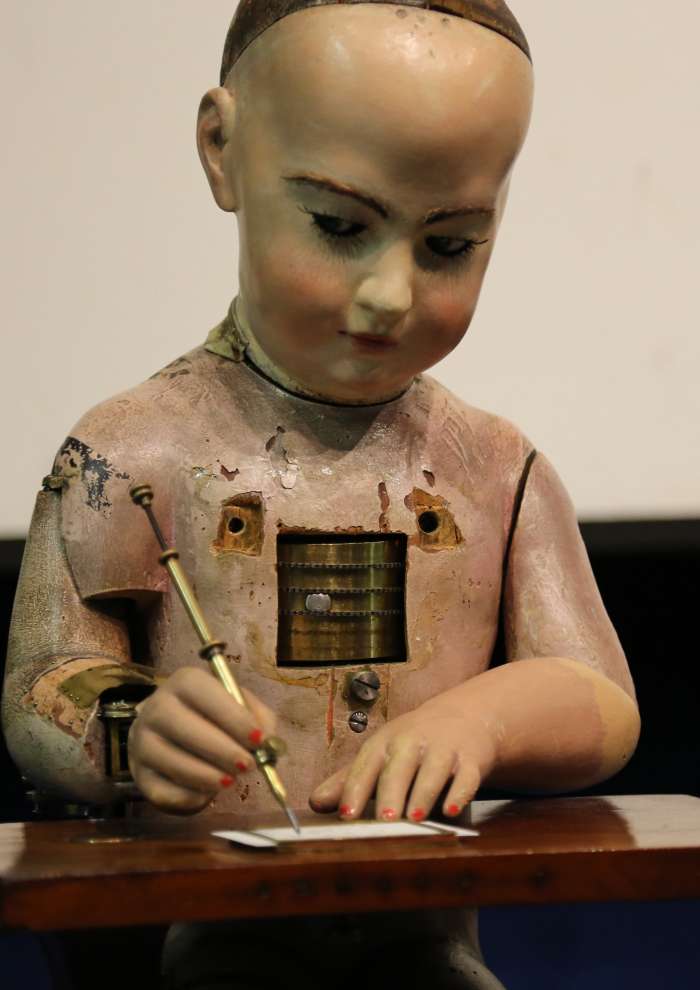 Synopsis
Escape Wheel is a two-channel video installation created by Louise Manifold in collaboration with opera singer Elizabeth Hilliard. It was conceived as an opera performance for the Jaquet-Droz Automata, the three celebrated androids which have performed audiences all over Europe over the last 300 years; they are now held at the Musée d'Art et d'Histoire in Neuchâtel. The Jaquet-Droz Automata are among the most acclaimed automatons in the 18th century. Named the Musician, the Draughtsman and the Writer, each automaton performs a creative activity to a mechanical cycle. Built from nearly 6000 parts, the three automata are self-operating and programmable machines, anticipating modern-day programmable computers. Manifold's work developed from a fascination with the Jaquet-Droz Automata regarded as devices to measure the passage of time, both through their mechanical actions and the audience reaction to them.
Concept & Technique
In Louise Manifold's film, the perspective is inverted, and androids become the audience. Through the opera sound cycles being developed from the mechanical rotations and repetition of movements of each automation, the piece acts like a cycle of a myth of artificial life.
---
Screenings
2021 - Tempo Incognito: On Flows, Rhythm, and Movement,Curator: Rana ÖztürkDEPO / TÜTÜN DEPOSU Istanbul Turkey.

2020 - Air Looms, Curated by Sarah Searson, The Dock Arts Center Carriage on Shannon, Leitrim, Ireland
Details
Topics
Arts, Emotions, technology
Duration
00:07:00 (looped)
Original formats
Digital HD
Screening formats
Digital HD
Contribute
---