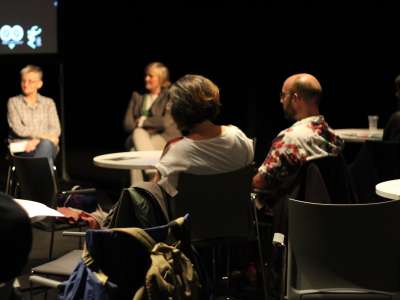 The Irish Artists' Film Index consists of a Repository containing a log-in research database, and a public website. It has been built up incrementally and acts as a national Repository of information on Irish artist's moving images and experimental film.
Irish Artists' Film Index: its mission
The Irish Artists' Film Index aims to collect, collate and make available information on Irish-based moving image works and experimental film and to promote new critical writing about this visual arts genre.
Irish Artists' Film Index: its focus
The Irish Artists' Film Index is primarily a resource for curators, gallerists and museums, both national and international, to highlight and help find Irish artists' moving image works and experimental film. It is a searchable online database with free access to key information and writing on visual arts-based moving image works and experimental film by Irish artists, by artists living in Ireland and on subject matter relating to Irish history, politics, culture and society.
Works are continually being added to the database, based on a structured selection process. See link here.
Governance
The Irish Artists' Film Index is an unincorporated artists' run not-for profit organisation. It is committed to good governance and organisation. Kildare County Arts Service fund the yearly maintenance of the facility and The Arts Council of Ireland has provided project based funding from time to time. The VAI (Visual Artists Ireland) acts as an advisor with some publicity support. It has a 3 person Advisory Board who serve for 3 years.
Director
The Director's role is to liaise with the administrator, technical support to ensure the maintenance and the development of the Irish Artists' Film Index in line with its aims. They are responsible for securing funding, hiring staff, establishing contacts and overseeing compliance with GDPR and other standards. The position of Director is voluntary and the present Director is the Founder, Fifi Smith.
Administrator/editor
The Administrator's role is to enter data into the database, ensure it is up to date, and provide editorial and other promotional support when required. The Administrator also helps out with the organisation, running and recording of Irish Artists' Film Index events. Presently, there is one part-time Administrator.
Treasurer
The Treasurer's role is to oversee the finances of the Irish Artists' Film Index and to ensure that these comply with all relevant regulations and requirements. The organisation makes yearly financial plans and keeps detailed financial records that are submitted to our funders every year. The maintenance funding is applied for on a year-by-year basis, and is at present provided by grants from Kildare County Arts Office as well as occasional grants from the Arts Council of Ireland. The position of Treasurer is part-time and voluntary.
The Advisory Board
The Advisory Board consists of three members. Members are appointed for three years. At least one new member must be invited onto the Advisory Board after each three-year period. Previous Board members may rejoin the Board after a gap of at least two years. The Advisory Board's role is to offer innovative advice and dynamic perspectives, providing the Irish Artists' Film Index with knowledge, understanding and strategic thinking. Advisory Board members do not have any supervisory or executive function and so are not subjected to any administrative liabilities, fiduciary duties, or financial obligations.
Technical support
Presently, an independent web developer is employed on an ad hoc basis to provide technical support and security for the webite.
Standards and Guidelines
In its collection and collation of data, the Irish Artists' Film Index follows internationally accepted standards and guidelines, details of which can be found here. It abides by current GDPR regulations.
The Future
This process of selection takes place on a regular basis, allowing the Irish Artists' Film Index website continually to expand its offering of Irish-based works. With time and funding, distribution of works and artefact archiving may be possible. The Irish Artists' Film Index will continue to seek permanent maintenance funding to secure the future of this valuable repository.