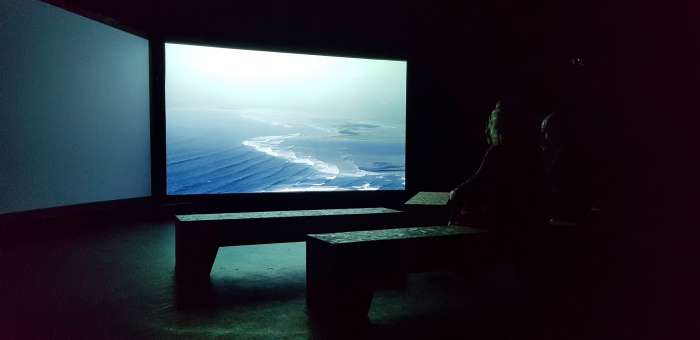 Synopsis
Landfall is an hour-long dual-screen, dual-stereo film installation, which I shot, edited, produced and directed. The film installation was originally commissioned in 2019 by acclaimed theatre production company ThisisPopBaby for Where We Live: Stories from the City (2020), a bi-annual theatre and arts festival presented in association with the St. Patrick's Festival. Landfall was presented at Project Arts Centre, Dublin. It was curated by David Donohoe, Eamonn Doyle and Niall Sweeney. Due to the closure of all cultural centres nationally on 12 March 2020, a measure resulting from Covid-19 containment efforts, the exhibition, originally scheduled to run until 21 March, was closed the day that it opened. The film is a succession of vignettes which combine to form interrelated observations on the island of Ireland as a set of conditions – geographical, political, ideological – with themes of contested ground, boundaries, containment, resources, energy, systems, and structures emerging. Chronology and geography are disrupted, thus correspondences across the material are explored through sequence and juxtaposition and recurring motifs or themes. In presentation the scale of the projection (human figures often equal or exceed life-size) reinforces or makes palpable the presence of human activity in the images of the built environment. Throughout the many locations, events and themes in the film, there is an overwhelming sense of the relentless presence, movement, and demonstrative will of people. The drummer recurs throughout the film, through footage of a spontaneous, late-night city-centre improvised musical gathering. This occurrence had remarkable and varied effect on passers-by and these filmed sequences are emblematic of tensions between private and civic space, as the city's occupants reclaim and repurpose the streets.
Concept & Technique
Landfall comprises documentary or observational footage shot (in the Republic of Ireland) over the period 2012–19. The material was recorded using a DSLR camera recording HD video, in a Direct Cinema tradition (single camera, available light etc.). The footage consists primarily of tripod shots with panning, zooming and varying focus-points, and a small element of hand-held footage. Exceptionally, two sequences were recorded using a mobile phone camera. The camerawork intermittently makes itself conspicuous through abrupt movement, focus-finding etc., bringing a self-reflexive element. The soundtrack is heavily processed in post-production using Ableton Live 8 software – a combination of direct sound (recorded either in-camera or using an additional audio recorder); sound generated using analogue synthesizers; Foley techniques; and field recordings from non-contiguous sources. Often there is no actual correlation between sound and image as the sound has been entirely synthesized, but the viewer imposes one. Landfall is presented as a continuous loop of one-hour duration, but has a (conceptual) starting point – incoming tidal waves at Sruwaddacon Bay – the 'landfall' where the Corrib gas field pipes reach the mainland. Across two screens, multiple marches, protests, and demonstrations are depicted. These include the Apollo House occupation; housing crisis demonstrations; the 'Right2Water' campaign; the Repeal the 8th campaign; Extinction Rebellion, and the 'Take back the City' occupations. The earliest of these (and where the idea originated) was Occupy Dame Street, 9 March 2012. This is interspersed with footage of the Corrib Gas refinery; Anglo Irish Bank/Central Bank of Ireland under construction; Custom House, St. Patrick's Day; a wind turbine; beehives; a street drummer; Avondale Forest Park (site of a demonstration against the proposed sale of national forestry resources); a gorse fire; Rundale fields; water meter installation; and flood alleviation works. The choice of what to film was for the most part preselected – I chose to attend marches and demonstrations – while some sites such as a gorse fire and a wind-turbine were encountered by chance, but included for their thematic relevance and emotive impact. Filming was done without pre-planning and what I filmed was an intuitive or improvised response to what I was witnessing. The approach to the sound design is partially informed by necessity. With no crew and very limited resources, workarounds compensate for inadequate quality or 'coverage'. The processing of sound (manipulation through amplification, equalisation etc.), and synthesis (sound which does not in fact originate from the visual source but simulates and functions as a place-holder) cause ruptures between sound and image, distorting scale and thereby questioning verisimilitude. This treatment is influenced by Chris Marker, employing sound as a psychological means to charge and disrupt the evidentiary material. At exhibition the material is projected onto the screens in sequences, employing either left or right screen, or both screens simultaneously. This sequencing creates a dramatic physical effect on the viewer in the exhibition space amplified by the volume of light being projected, the width of the projection area and the viewer's close proximity to it. The sound is played at high volume to enhance the visceral and immersive experience. Behind each screen is a floor-standing subwoofer speaker which delivers low frequency sounds, while two stereo-pairs of loudspeakers are suspended from the ceiling in an 'x'-formation. This creates a tangible spatial dimension as the sound source can literally travel (pan) from one corner of the room to the opposite corner along two axes. The sound segues from one sequence into the next creating interplay and sound clash. This is particularly dramatic when corresponding with movement within the footage (for example a tram passing).
---
Screenings
Landfall, Where We Live, 11–21 March 2020, Project Arts Centre, Dublin.
A Visibility Matrix, (Landfall excerpts), Sven Anderson and Gerard Byrne, The Douglas Hyde Gallery, 2018.
---
Reading
Details
Key phrases
contested ground, boundaries, protest, demonstration, containment, resources, energy, systems, structures
Duration
01:00:00 (looped)
Original formats
Digital 4k, Digital 2k
Screening formats
Digital 2K
Contribute
---