"In the Robing Room" at the Centre Culturel Irlandais Paris
21st January 2022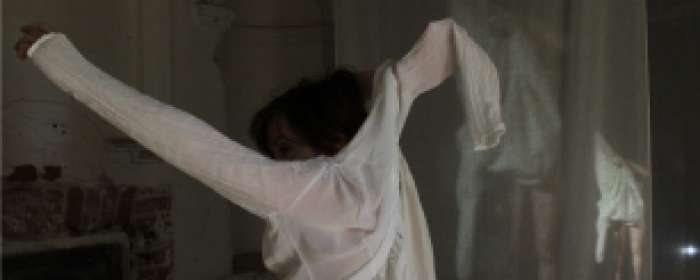 Performance by Áine Phollips, filmed by Vivienne Dick "In the Robing Room" i
Two excellent speakers in converstation-
The 2012 performance by Áine Phollips, filmed by Vivienne Dick "In the Robing Room" is included in A Nation Under the Influence: Ireland at 100 at the Centre Culturel Irlandais Paris 3 Feb - 30 March.
Vivienne and Aine Philips will be in conversation with curator Rosetta Beaugendre at CCI 24 February 2022 with Anne Maree Barry who is also exhibiting in the show.
See here:-
https://www.centreculturelirlandais.com/en/agenda/a-nation-under-the-influence-ireland-at-100
"In the Robing Room"
The artist performs a futile and haunted disrobing ceremony with an ill-fitting dress. Recorded in the 18th Century Roman Catholic Bishop's Robing Room, Kilkenny in 2012. Performed in memory of girls and women incarcerated in Mother and Baby Homes and Magdalen Laundries in Ireland, throughout the 19th and 20th Centuries. And their lost children...
Cinematography in 2012 by Vivienne Dick
Editing and sound design in 2021 by Connie Farrell
Testimonies of women who lived and worked in the Good Shepard Magdalen Laundry, Limerick were collected by Evelyn Glynn and voiced by Áine Phillips
In the Robing Room was originally commissioned by Kilkenny Arts Festival 2012 and curated by Josephine Kelliher