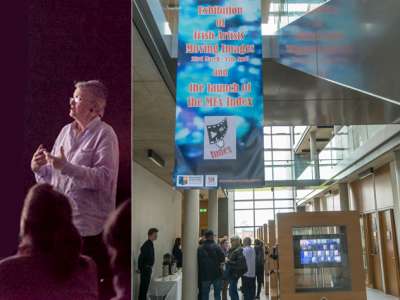 The Irish Artists' Film Index invites contemporary art and media students interested in artists' moving images and experimental film to access information on its wide range of works that give a comprehensive survey of this genre in Ireland. Also, many of the works are playable on the site so it is an instant and invaluable resource.
Early artists' moving images/experimental film - a very short introduction
Artists' moving images and experimental film sit in an area between the visual arts and film. It concentrates on the question of how film can be perceived when conventional approaches to the moving images are deconstructed. It is fundamentally a way of seeing the moving image free from preconditions and the carapace of conventions.
International background
The early silent film makers realised that certain kinds of shots and certain combinations of shots could move a storyline along in a way that was intelligible to the audience at large, and a sort of film 'language' or 'grammar' evolved. This grammar was developed and codified in the 20th century by directors like Alice Guy-Blaché with 'The Cabbage Fairy' (1896) and Sergei Eisenstein in the Soviet Union with 'Battleship Potemkin' (1925). Commercial filmmakers, particularly mainstream Hollywood directors, all over the world today still use these basic rules developed then for shooting films.
However, outside of this film industry this new medium was attracting the attention of others interested in using this in a more radical way. In the early 20th century visual artists, intellectuals and writers were challenging the status quo of the established visual arts scene. Certain traditions were being thrown aside in a spirit of experimentation and there was a move toward abstraction resulting in Surrealism, Dadaism, and Minimalism etc.
All this critical engagement led to a wave of visual artists using new ways of seeing with new materials, film being one of them. Though not widely available at first, the influence of these experimental film works grew over the decades and their influence has had more and more effect, hurrah for YouTube. Their stamp can still be seen in modern cinematography, editing, visual effects and aesthetic and art criticisms. However, the whole area is still in flux, still fighting definition and still morphing in surprising ways.
Irish artists' moving images - A short history
Up to the end of the 20th century, Ireland had not developed any strong tradition of experimental filmmaking, certainly not in the way that the rest of Europe or the USA had done. There was no strong tradition of avant-garde film or experimental filmmaking. With little cash in the country, a combination of an impoverished population and a hugely conservative consensus creating this kind of experimentation in film almost impossible.
However, exceptions such as Bob Quinn and Joe Comerford, in the 60s, and 70s, working in the new national TV station Radio Telefis Eireann, did manage to create experimental work in this medium. In 1973, The Arts Council of Ireland acknowledged film as an art form and the curator Ted Sheehy wrote later 'while the industrial potential of film was then on the agenda, it's artistic potential was dealt with under 'any other business'.
An interested minority that kept a small audience in touch with what was going outside the country arranged screenings of international works. However, these were thin beginnings. In the 80s and 90s, individual artists such as James Coleman, Vivienne Dick, Pat Murphy and Thaddeus O'Sullivan left the country and made their first films abroad.
Artists such as Julie Murray, Jacki Irving, Patrick Jolly and others were producing moving image works in the early 2000s and the IFI and The Arts Council had a few works in their archive. However, it was with the easy availability of camcorders and phone cameras, combined with the available editing technologies in Irish art colleges, that artists' moving images began to proliferate over the next couple of decades.
At an investigation into the history of Irish experimental film 'ABSENCES AND (IM)POSSIBILITIES, traces of an experimental cinema in Ireland', IFI 2013, its curators noted that '....from the existing literature on Irish cinema, one would be hard pressed to find evidence of an Irish experimental cinema.' a short time after this, Critical Forum Dublin in 2013 started and was hosted at TBG&S. Under the nurturing wing of LUX London, this brought a cross section of practitioners together on a regular basis, and provided insights into the many artists working in this medium. As a result of this, In 2015 the IrishArtistFilmIndex was launched at the symposium 'Presence and Possibilities' (The presence of experimental cinema in contemporary Ireland)at NUI Maynooth media department NUI Maynooth. From the same discussions came the Plastick Film Festival in 1915 and 2017.
In 2015 also, the innovative gathering called 'Wild-Screen', an artists led initiative lured an interested audience from urban centres to experience artists films in Connamara. Galleries were showing more and more Irish moving image works in installations and Irish national collections were slowly adding some such works to their online catolagues.
Viewing suggestions.
How Irish works were and are being influenced by international works and the works documented in the Irish Artists' Film Index is yet to be determined.
Irish
Although there is no cannon of early experimental and Irish artists' moving image works agreed upon yet, here are a few suggestions of works being created by Irish artists over the last few decades:
International
Below are some more links that will give anyone new to this area a feel for the range and history of International artists' moving images and experimental film.
This hort overview provides a comprehensive guide to the long tradition of American avant-garde cinema.
https://www.jahsonic.com/ExperimentalFilm.html