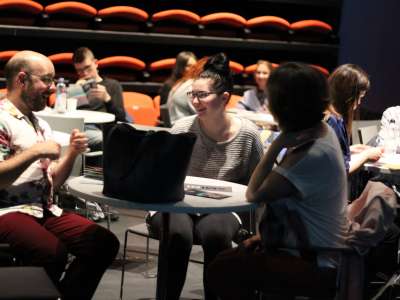 'Experimentalism may be said to be moving into a gap in the human adaptive potential left open by the increasing computability of a globalised world. Let us seek to be, and keep being, trained by it' László Tarnay – Film Experimentation and the Sublime – Journal of Moving Image Studies 2004
For curators, writers and academics - you can now log in and see more.
Once registered with the Irish Artists' Film Index , you will have access to works not yet published as well as the Articles page of the Irishj Artists' Film Index. Here you can open a download articles about Irish artists' moving images. We are also always looking for comparative writings and overview papers in pithy plain English to add to our library of papers that focus on Irish artists' moving images. We regularly commission such writings, but if you know of existing texts of such a nature please contact us at [email protected]
We encourage curators, researchers and students to contact us if they would like further information or backup when searching the website.
Each year we appoint a Curator in Residence. Each curator develops a themed selection for a public event at the end of their curatorship. The information on these works will then appear in our Curated Selections on the homepage of the Irish Artists' Film Index.
In addition, the curator is asked to view the works in the unpublished list and make their selection of works they recommend for publication. Then the adjustments are made, the information on these works will be published on the public area of the repository, the website, and so it can be accessed by the public. This is another rich resource for comparative scrutiny and possible inspirations for future screenings.
In the background, we are piecing together the story of this genre. So if you have good factual information about artists activities, happening, screenings or collectives around this gene in the 1960s onwards, do get in contact.
Why the Irish Artists' Film Index?
On returning from an international festival in 2014 an experimental film artist noted that curators reported that Irish artists' moving images were not much represented internationally because they were difficult to access, ie. there was no systematic way to find them. Whilst looking for experimental films for IAFI (Maynooth Experimental based in Maynooth University Ireland), I found the same problem. Word of mouth seems to have been the most common source of information on the subject, but many visual artists are solo flyers and therefore not 'in the loop.
Objective
Motivated by the conviction that the index of a culture's health and vibrancy lies largely in its margins, in those works of art that are created outside the commercial mainstream, the Irish Artists' Film Index strives to advance the cause of Irish moving images works that struggle to be seen.
If you have any other queries, please email us.